In Conversation with Rosie McKeand and Leigh Tesch
This episode of Creative Responders features artists, Rosie McKeand and Leigh Tesch, who share their experience working with three to six-year-olds on 'Afloat', a creative recovery project created in response to the May 2018 flood event in Hobart, Tasmania.
Many early learning centres were seriously impacted by the flood and the community's experience of the Hobart Rivulet was forever changed, prompting the local government to focus on young people and their families in their recovery strategy.
Rosie and Leigh collaborated with the City of Hobart on a program that utilised creativity and play as a means to help children deal with change, adversity and the associated feelings. Their combination of drawing and storytelling created a collaborative, child-led environment that provided a joyful space for reflection and learning.
In this conversation Scotia, Rosie and Leigh discuss:
The process of using drawing, storytelling and creative modalities to work with young children to open opportunities for them to process their experience comfortably
How to support children in times of change, and strategies to help them feel confident and safe in an environment that can change rapidly
How the arts can provide reflection and learning around challenging experiences, particularly in early childhood when younger children may not have the language or vocabulary to express their experience
The process of working in collaboration with educators, care-givers and parents and how the arts can open a different mode of communication for children as well as the adults in their lives
The crucial role of local government in the recovery process and the positive impact of the City of Hobart's activation of flood recovery projects incorporating arts-based initiatives and support for experienced artists to execute these projects
Rosie and Leigh's different creative modalities and how they work together in partnership to provide multiple entry points for workshop participants
The Afloat project was instigated by The City of Hobart as part of a range of recovery projects in the wake of the floods under the banner "Resilient Hobart".
Funding for these programs was obtained through the Community Recovery and Resilience Grants Program, jointly funded by the Australian and Tasmanian governments under the Natural Disaster Relief and Recovery Arrangements.
The Resilient Hobart program was awarded a 2020 Resilient Australia National Local Government Award for excellence in their response to the flood event.
Podcast Transcript
In Conversation with Rosie McKeand and Leigh Tesch
June 2021
Scotia: Hi I'm Scotia Monkivitch,
Welcome back for another episode of Creative Responders: In Conversation; our monthly interview series where we hear from people on the frontlines of the arts and emergency management sector as they prepare, respond and recover from disaster.
Today's guests are Rosie McKeand and Leigh Tesch.
Rosie and Leigh are both Hobart-based artists, and we invited them to join us to talk about their work on a project called AFLOAT, a beautifully executed creative recovery initiative for young children that took place following the flooding that impacted the greater Hobart community in 2018.
The project is a shining example of what can happen when local government understands the value of the arts in recovery projects, and not only instigates arts-based programs but also supports experienced artists to execute these projects in consultation with community.
As we'll discuss in this conversation, The City of Hobart instigated a range of recovery projects in the wake of the floods under the banner "Resilient Hobart". They were designed to equip residents with tools to get ready for, respond to and recover from disruptions to normal living.
The funding was obtained through the Community Recovery and Resilience Grants Program and were jointly funded by the Australian and Tasmanian governments under the Natural Disaster Relief and Recovery Arrangements.
Rosie McKeand's practice in community is extensive, and she has been engaged by State Government agency Arts Tasmania to mentor emerging community artists. Rosie was the Art Educator at the Tasmanian Museum and Art Gallery and Artist in Residence for many years at the Fahan School. As you'll hear in our chat, a lot of Rosie's work is based around drawing and visual literacy and her work is grounded in the pedagogy of Reggio Emilia and Eileen Adams.
Leigh Tesch is a performer and facilitator of arts and community projects. Her work includes storytelling performance and workshops for young children and families in the Small Stories Project, and as a clown doctor. She supports artists to work in healthcare through Inscape Tasmania and is currently undertaking her PhD in arts and health. Leigh is currently a key contributor to ArTELIER, a collective of artists developing their practice with children and young people.
I particularly enjoyed hearing Leigh and Rosie's thoughts on their relational way of working and how their open, arts-based approach was so effective in providing a space to listen, reflect and centre the experience of young people as a vital part of the recovery process.
I hope you enjoy this conversation with Creative Responders, Leigh Tesch and Rosie McKeand.
Scotia We have a very special Creative Responders today in conversation with two guests. I'm here with Leigh Tesch and Rosie McKeand, both joining us from Hobart, Tasmania. Welcome, Leigh and Rosie.
Rosie [00:03:23] Thank you.
Leigh [00:03:24] Hi.
Rosie [00:03:24] Nice to be here.
Scotia [00:03:26] I'm calling in from Meanjin, Brisbane in Jaggera Turrbul country where abouts are you two, you're in actually Hobart or…
Rosie [00:03:34] Yes, in the City
Leigh [00:03:36] From the island of Trowenna, Tasmania.
Scotia [00:03:38] Beautiful. So we became aware of your work through the Afloat project, which you've both had wonderful, diverse and rich creative careers leading up to that and working as a team on more than one project together. But I thought we'd start talking about Afloat, which was a project created in response to the floods across greater Hobart that happened in May 2018. Could you set the scene for us a little and tell us about the floods? And what was it like when you for you when it took place?
Leigh [00:04:07] Well, the floods itself, I just remember in May of that year, there was just torrential rain and I'm up fairly late and I seem to recall my son showing me images, which was obviously going through on social media of the university. I think the engineering department just had this wall of water go through it. And so people were posting these photographs and friends who finished their shift at the Royal Hobart Hospital and came out and everything was covered in water because the Rivulet had flooded. So it was just torrential rain. And I guess our house, as usual, leaked and probably a little more than usual. There was more water coming through the ceiling. Yes. But I guess that we didn't realise at the time just how much damage had actually been done at the time.
Rosie [00:04:59] I was a bit the same I was in bed, I remember, and I was thinking, this is just actually staying here. The storm just seem to be staying in one place. And it went on for hours and hours. And I lived actually near the sea and I could hear it roaring down the beach and all the stones and rocks. And I knew it would be flooding underneath the house, but I just really couldn't go and have a look. I just stayed in bed and thought I'd look in the morning.
Leigh [00:05:27] I think the most devastating image for me was, I think the next morning seeing that the university law library had been flooded and the books were literally lifted up and strewn all over the oval at the university. It was quite extraordinary.
Rosie [00:05:44] The same for me with the beach, it was only stone, huge boulders, the beach was absolutely gone.
Scotia [00:05:51] It had been stripped
Rosie [00:05:52] Stripped of all the sand. It's was really fascinating.
Scotia [00:05:57] And that's interesting. As a land lubber, I don't often think about the sea in flood, although in Queensland we lose a lot of our beaches quite regularly in the kind of torrential cyclones, etc.. but from rain, it's a kind of interesting concept, isn't it?
Rosie [00:06:13] And the sound, I think the sound was huge. It was just really booming around us for hours it seemed like
Scotia [00:06:21] In the aftermath of those floods, you both became involved what would become Afloat. So it was a project focussing on three to six year olds using creativity and play as a way to help those children deal with the change and the associated feelings following this event. Can you tell us how you became involved and what was the motivation for you in terms of setting it up and pushing to make it happen?
Rosie [00:06:45] Well, with me, it was just Sue Haig from the city of Hobart asking me if I'd like to be involved. And when I researched it, I thought, yes, that's an interesting project, because I've worked in the in that area for some time in the with the early years foundation. And so just working in that area and thinking, yes, well, this is two playgroups, one play centre and one primary school.
Scotia [00:07:13] And were those centres and that primary school affected by that flood directly
Rosie [00:07:18] Yes, yes, they were on the rivulet.
Leigh [00:07:19] Yeah, I guess that's kind of where it came from because the council did get the funding. They asked us to be involved, which was fantastic because often as an artist you try and, you know, you're trying to get involved and trying to write the grants to get involved. But they actually saw the need and I think it was because of those those young children centres along the rivulet that were flooded and were closed. And they had huge amounts of water because a couple of the childcare centres are right on the rivulet. And so they were completely sort of washed through. So I think probably Sue and the council were responding to the need for young children because that was the demographic of South Hobart too who had a lot of young families, there's a very strong small playgroup there that we also work with, and maybe it was that that that's why they wanted to do something. I mean, as you know, there were a number of projects that the council, the city of Hobart had funded for the recovery. And and many of them used Arts.
Scotia [00:08:21] Yeah, it's interesting because often there aren't projects for that particular demographic. The zero to six year olds often miss out on a lot of recovery thinking. So it was pretty wonderful that the council had that in mind. And I think at that time, too, there was also a lot of research coming through around this ongoing impact that young people, particularly coming through quite major disasters, start to show signs of what that trauma has done for them and their capacity to kind of feel safe in the world. So it's pretty great that the council was forward thinking in terms of activating so quickly.
Rosie [00:08:57] And it was wonderful, really, they were really enthusiastic,
Leigh [00:09:02] Very supportive
Rosie [00:09:02] and supportive of us
Scotia [00:09:05] So the program consisted of a series of workshops. Can you talk us through how the workshops were presented? Like how did you engage those children and who were involved? How how will you support it in developing the work?
Rosie [00:09:19] Well, we had to think about the age group and how we'd engage the children in that age group. So it was really about "everything changes". We thought if we anchored it around actually change, you know how things alter and the cycle of things, it can be a disaster but then we move around that cycle when we move into other areas, just working through that cycle. And so we'd start to engage the children through really drawing where I'd draw a scene actually of the mountain, I'd do the skyline of the mountain and the children would say, "that's our mountain!".
Leigh [00:10:02] A lot of ownership
Scotia [00:10:04] It's so recognisable, isn't it?
Rosie [00:10:07] And then I'd had the Rivulet coming down of I'd ask the children if there are other things there and so they'd have the street and the cafes in the centre and the school and the bridges. So that had all come into the drawing. And then I'd start to draw the clouds with charcoal and they'd come over the mountain and then all the rain would come down and then I'd rub the charcoal out and the sun would come out  and the sky would be blue. So the story would evolve and the children would be talking about it all the way through. So I really responded to the children in the drawing and so it became really a sense of where they were and place for them.
Leigh [00:10:50] Yeah. So we we were really aware, working with young children around the whole topic of the floods and trauma, that there is a risk of, you know, you don't want to re-traumatise children of that age around revisiting and in a frightening way these experiences, which is often about our adult response to disasters, quite understandably. So we really based the work in listening to the children, as Rosie said. And that was a great example, that drawing exercise that you describe that we did every time we worked with the children because they did identify with their environment and their place. And so what what our aim was for them to experience the rivulet and what it means. And we made sounds. We did told stories about the rivulet. And we you know, we acknowledge that it changes and it gets louder and it gets noisier and it floods. And what happens when it floods? And it was really about helping them to feel safe and secure, being able to draw and experience and talk about the rivulet as a way of feeling safe around an environment that changes
Scotia [00:12:02] Yeah, changing it into a narrative rather than a fear
Rosie [00:12:05] Yes. And the drawing enables children to add to all the time and remember things and I'd sort of add that to the drawing. And then they'd say 'and this, and that' and the other and so the drawing would come on. So they actually had the ownership of the story.
Leigh [00:12:24] And the great thing about working with Rosie, that was a real joy in the whole process but we both bring different skills. So we did a lot of drawing, we did we made things as well. We did three dimensional and we had this we had this blue cloth that we used every time that was, that became the Rivulet. And we actually I do more sort of storytelling and performance and so I always perform some kind of story from the things they told us about the rivulet, and the animals, you know they all told us about the platypus. They all told us about the mountain. They all told us about the noise and the turbo chooks.
Rosie [00:13:06] Yes, we called them turbo chooks
Leigh [00:13:09] so that all these characters emerged out of the story of the rivulet and because we went back, there were four different areas we worked centres and we went back another, we went back at least twice. So we always sort of were building each time we went in some creative modality that was all about expressing stories of the rivulet.
Rosie [00:13:31] And we'd start with the same format of the story. And so the children didn't really come in at anything that they weren't comfortable at, you know, they felt really comfortable. So we'd ask them about what they did at the time before when we came. And that actually brought up the story again for them. So it became an easing into the story and so they were able to add to it.
Leigh [00:13:55] I think they felt empowered by that story then, this was their world and they felt good about it.
Scotia [00:14:02] Yeah, I was just wondering how you worked in conjunction with the the staff, the educators' that were with those children?
Leigh [00:14:12] That was a big part of it. In fact, right from the beginning, there was lots of liaison and lots of talking and workshops. And we ran two workshops for educators or parents all around, because really it is about the adults being there to hear the stories. And in fact, after the workshops, you know, more stories came out for the children about their experiences as well. So it was really about this enabled the art making that enabled them to see their world from a safe and secure place and then adults being around, that was a very important part of that.
Rosie [00:14:47] Yes. And at the beginning, we had the workshops for the parents and the staff of the centres so that they would understand how we were going to work, because I feel that that's really important.
Scotia [00:14:59] That's interesting. So how did the parents engage with your work as it developed?
Rosie [00:15:04] Well we do the same with the parents as we would with the children. We started off with the drawing of the story and the parents told the story and the staff told the story. So they had a feeling of how it would work and what it feels like to actually be involved. So they have a very good understanding because I think it's it's really hard sometimes when you're staff in the centre and you have someone come in and you're not sure how they're going to work. And, you don't know whether you really want the children to be involved with this, you
Scotia [00:15:34] You have to build that trust don't you?
Rosie [00:15:35] Yes, you really feel protective of your children and you think hmmm so having those workshops so they knew exactly how we were going to work and they were confident that it wasn't going to be an outcome, that it's going to be the children's. And I think that's the important thing when we we stand back and allow the children, we actually plan like mad before. I write plans to 15 minutes even sometimes and then we put them aside and don't look at them. But we know exactly where we want to go and so we know how to guide, perhaps even though it's the children's way, we know how to have a guide, perhaps in a direction that we think is comfortable for them and has their interests at heart. And we can then build on their interests and expand on that. So it's really bouncing off the children all of the time and standing back, taking care and time and listening to the children so that, as I said, we know exactly where we want it to go, but the children have ownership.
Scotia [00:16:46] When you say, you know exactly where you want it to go, what were you hoping to achieve for the children and their families in this context when you started your planning when you set out on this journey?
Rosie [00:16:57] Well we wanted, I think it was about really change, wasn't it? We wanted them to be aware of change and to feel comfortable with change
Leigh [00:17:06] and to feel safe and secure within that world and celebrate and be empowered by their environment. Not, you know, not devastated by it or not, that's probably not quite the right word, but it was about empowering them to feel confident and safe and know what to do and that this that's living in a world and in an environment that can change and that we need to respect as well as understand.
Rosie [00:17:40] One thing I remember, you would tell the story and would have those that
Leigh [00:17:46] we made rainmaker's yeah
Rosie [00:17:47] So it'd go very, very quiet and Leigh would tell the story and then all of a sudden it'd really build up and they'd make all this noise and then it'd go soft again. So they have that feeling of the rhythm of things that things will change and they did feel comfortable.
Leigh [00:18:03] I think about using drawing and storytelling, it's providing a safe space for the children to express themselves as well. So that was our other aim, was just to provide that safe space where they can they can draw they can tell stories without any judgement and that that safe space enables them. If there is something that is sitting with them, that they need to tell that they can tell.
Rosie [00:18:29] And also with drawing, I always give skills for drawing. So when you're speaking about the turbo chook or the native hen, I'd say I'd start by patting his head and then feeling his tongue and having a line going down his back. So it gives children an introduction to really drawing in a skill. It's about line. It's about feeling shapes. It's about blurring shapes. And so when they started to draw, they have this way of actually making marks, but also supporting it with the language like 'Ooh feel that tummy it's soft, it's round, it's blurred. So all these you know language that comes through drawing as well. And so then they would go off and do some extraordinary things
Leigh [00:19:16] and also and that, you know, just hearing you say that, Rosie, that's also they're putting that down on paper. So they're also having that opportunity to express their world. And for adults to engage with them around that world, if that is so, that it opens up those relationships and communication and opportunities for them to express how they are…
Rosie [00:19:40] And then the wonderful thing with a drawing, with the blue fabric that I think they they put their drawings onto it with some stones and sticks and then I built the diorama. So that was the mountain, and then we'd have the cloth coming up, and we'd be outside on an oval or something like that. And they'd anchor their drawings in certain parts of this fabric fabric for the river. And then they would
Leigh [00:20:07] told the story of whatever people were saying that the children
Rosie [00:20:12] and we flowed down this blue fabric like the river
Leigh [00:20:18] and that added in what each of the animals that they talked about would do in a flood as well. So it did bring in that element of what do you do
Rosie [00:20:26] You had that wonderful idea about the frogs so when the children would say to the frog, so what do you do when it floods?
Leigh [00:20:33] So I would be the frog and the children ask, what do you do in the river? What do you do when it floods? Those sorts of conversations could be had in a playful way.
Scotia [00:20:44] Yeah, creative joy, really, isn't it? And I think early childhood, those younger children don't necessarily have the language or the vocabulary to express how they're thinking or what their emotions might be to try to identify them. And it's in in these creative modalities that we can reflect and therefore have learning from that, because without that reflection or articulation, the learning of the experience doesn't happen, does it?
Rosie [00:21:09] And we don't have an opportunity to really gauge their understanding of this, when in fact we reflect and hear from the children, we can gauge their understanding and where they're at so it's very important to do that.
Scotia [00:21:25] Mhm. And did the, when you were working with the young people, were their parents there as well, or is just the educators. Did you do something collaboratively?
Leigh [00:21:37] Yeah, we, we, we worked because I think it was two childcare centres and they were the educators and, and there was a school which was the kinders at the school, or preps. And they were there was the educators and the teachers there. And we did also do a playgroup and there was obviously parents at that. So that was quite a collaboration with the parents. Um, yes. And then when we did the there was a cumulative day that that sounds bad, culminatory, no what is that, how would just say that the day… (laughter)
Scotia [00:22:13] A day of culmination
Rosie [00:22:16] the celebration,
Leigh [00:22:19] the celebration! And which was of course the anniversary of the flood as well so, you know, it all led to this day as well.
Scotia [00:22:26] And what happened on that day?
Leigh [00:22:28] Well, that, again, was because this project was part of many other projects that the city of Hobart did so it was a bit of a coming together of a number of those projects. And we did we did more drawing and workshops and I did stories in this sort of little area around with the diorama around the edge of the rivulet. So again, it was celebrating and for the children that had come, although there are a lot of other children there as well, the children that had come from some of those workshops recognise that these were the things they'd been doing and that really it was sort of celebrating, and that those stories all came from the workshops of things we talked about the rivulet. So it was an opportunity to celebrate and and do more of the same except outside.
Rosie [00:23:14] And actually members of the public started to do lots of things and who hadn't been involved, who just came for the day.
Scotia [00:23:25] So this was a kind of collection of work that was called Resilient Hobart, and it was supported by that local government. And one of the things that we often look at is how crucial that role is of local government in creating and instigating and supporting these kind of recovery processes and projects. They won an award didn't they, the national resilience award in 2020 for their excellence?
Leigh [00:23:48] They did.
Scotia [00:23:49] What's your perspective as artists, of how important that support was in terms of enabling you to implement this work or the kind of relationship that they have with their local creatives?
Leigh [00:24:00] Well, I mean, we wouldn't have done it except for them. So, you know, they were really in this case, they did approach us because they knew that we'd worked a lot together. And with young children, I think they identified that that was an area of need within the other projects that they had. So I guess it was it was critical that support. And I guess, you know, for a council to be aware of where the areas are, that they need to put in additional supports and to be aware of using artists in those projects, I think was very,
Rosie [00:24:36] I think they're very supportive of the local arts scene, the City of Hobart. And I think they are aware as artists themselves, many of them on staff, that the way the arts
Scotia [00:24:48] internal champions, that's pretty rare isn't it.
Rosie [00:24:50] They are, yeah, they're fantastic! And they just know the value of the arts, opening up conversations in a different way. People are able to make connections through arts and in their own way. It's a sensory thing. They might hear something through music or see something through performance or drawings. So it just opens up conversations and breaks down barriers. And so I think the council actually values that.
Leigh [00:25:29] And yeah, they certainly were at the forefront of it really. And we had lots of meetings with them. We had lots of support from them.
Rosie [00:25:38] Oh gosh, lots of support from them.
Scotia [00:25:40] So in addition to the workshops, you've created this beautiful resource that documents the project and shares kind of creative ideas so that other communities can access that knowledge or that experience. What's the response been to that? Have you had any feedback from other places who have found it useful or have you felt that it's been able to get a bit of attention outside of Hobart?
Leigh [00:26:03] I mean, we certainly have had very positive feedback generally about the booklet wherever, you know, it's been shown or shared, people are being positive about it.
Scotia [00:26:13] Yeah  it's a beautiful resource, very accessible and I know I've shared it with quite a number of people. There's a range of I think there's a growing understanding, too, that these children, young people, particularly that very early may be non-verbal age, are really needing to have something to be able to process that experience. And resources like yours are so important in supporting that activity.
Leigh [00:26:37] I think initially the booklet sort of like the whole project, actually, because we really wanted to see what the children said and be led by them in the process. And so from the beginning, there was the idea there might be a resource, but we didn't actually set about what the resource was going to be. We thought we would document the project. So for us, it would be to document our project in some way. So council helped with photographs. We also had Sarah Zika came in and took photographs on the final day. And so it was really that, you know, working with what the children told us and then out of those images and out of the quotes of what people said, out of all those sort of documenting right the way through, that emerged as a way to put the booklet together.
Rosie [00:27:28] Because I think for us as artists, it's really hard to be documenting. I know people often say, oh, so have you documented that? and I say I don't have time to document it, I don't have the resources to document it
Scotia [00:27:40] yet another layer
Rosie [00:27:43] Yeah, hold that I want that photograph. So I think it's really difficult to document. So in that way, we're really fortunate that we had the council behind us documenting.
Leigh [00:27:53] Yes, that's right.
Scotia [00:27:54] It's true, isn't it?
Leigh [00:27:56] And if it was just us doing this project, we wouldn't have been able to have a look at that.
Scotia [00:28:07] It's interesting isn't it, because we don't often think about the the validity of how this might be used into the future because we're so, you know, so immersed in what we're trying to achieve through the project.
Leigh [00:28:18] That's right. And as you say, we you know, we don't know with young children, it is hard. You know, it is a special area. And I was just thinking of examples this morning and I was reminded of this young boy, a little boy in one of the first sessions we ran, you know, and we would just draw and I think we were using chalk and we draw on all these the animals and everyone else in that what was happening on the river. We might have done our story of when the rain gets really loud. And and then he was just had this, you know, blue and he was going he was drawing the blue over everything. Now we hadn't actually directly said 'What happened to you when it flooded?' But he drew that, he just drew it. He drew that the water went over everything. And he said 'that's because the water just covered this', we were in a sort of a park, 'The water just covered this whole park when it flooded. And we had to go up to the higher ground, mum and dad and I and whatever'. We talked about this whole story just through the opportunity to draw and to do that activity. Now, he may have told that story before or whatever, but within this context, we were allowed giving the space and the stories emerged. And I think it's it's a specific process, I think, for younger children. And and it does emerge if you give them the space and
Rosie [00:29:36] and stand back and allow it to happen. Mm hmm.
Scotia [00:29:38] So this isn't the first project you've worked on together. I know that you've collaborated previously with projects for young people, not necessarily around natural disasters, but for particularly children, young people in foster care. Um, both projects probably have an underpinning of the work that the arts can be used as a tool to work through different or difficult situations and experiences and assumably build a foundation for some sort of resilience building, would you say that's the case? Is that the premise from which you work or how would you articulate your philosophy, I suppose, or methodology of how you work together?
Rosie [00:30:18] Mine's really based in drawing and skill based and and the language to support those skills, as I was saying before. So the outcome is owned by whoever we work with. And when we're working in areas that are more vulnerable and people have difficulty in, um, language and being able to express themselves, being able to draw just, um, gives them a voice really and an understanding and makes their thinking really visible. You know, we can we can see their thoughts and, you know, it allows us to engage at a different level I think. And that's what we found in that in the foster care. Um, it was absolutely surprising in some ways you think how did that happen, that was really wonderful, some things that happened, really touching.
Leigh [00:31:21] Yeah, I think the sort of back story of all of what we've done together is mostly been supported by the early Tasmanian Early Years Foundation, where we did a project which was really about valuing the arts for young children. And that's when we started working together in child family centres, which is what we have in Tasmania for young children and families. And really and then we sort of had this particular Fostering Creativity was a particular project for children in out-of-home care, and it was really based that the arts, and and something I've even learnt from working with Rosie is that we've always worked with the adults in these children's lives, whether they're carers or educators or parents, that we always work with them at the same time or and preferably even not separately from the children to give them an opportunity to explore their creativity. And so they understand the way we're working and some of the skills that Rosie is talking about,
Scotia [00:32:20] but also perhaps to really bridge a different relationship between them too
Rosie [00:32:23] Exactly, totally.
Leigh [00:32:25] Because by giving them those opportunities and we've seen it time and time again, you know, that that opens up a way for them to connect. And that's probably in different ways. And that's with educators, but with parents, with foster carers or with parents. We we did a number of sessions on the foster care project with those children in out of home care who were, you know, having sessions with them, with their parents. And so it was giving them an opportunity, one to play together and to draw in a way that was not about literacy. So that wasn't a barrier. It was about drawing and making images, making marks together, so it gave them a way of being together, and I think that's probably, I think part of the way we work.
Rosie [00:33:13] Yes, I think in the in the access visits that we had when we'd start to really draw. And once again, starting with the skyline, you know, across the page and then saying, so what's happening down here? And so they'd start to draw down on the corner. And so what's happening now? Are they hungry? Do they need something to eat? Is it a sunny day do they need any shade? So all this conversation that you lead people into drawing and then they take over the drawing then anyway and quite often, you know one example, I remember working with a teenage girl who did the most extraordinary drawing that showed that she wanted to be with her parents. And, you know, it ended up with me actually going to the school and speaking to the staff because she hadn't spoken to anyone about this. But once it came out in the drawing, it was really moving. So, yes, lots of things that you don't expect to happen, happened and once again, we worked with the staff and the sector before we worked with the children. So the staff was comfortable in our way of working. And I think that's the most important thing. So that when you're going into a sector, you have the support and understanding of how you're going to work.
Leigh [00:34:37] And we did a lot of work in trying to also you know you create all those kits and things so that we were offering to the staff for them to use quick little sort of drawing activities or telling story activities in the moments that they have with the children. So it was giving them that didn't have to be complicated at all. It didn't need a whole workshop. They could actually have encounters which were, you know, based in drawing or a different creative modality. So to sort of help them
Rosie [00:35:13] and I think people think that a drawing has to be of something and it doesn't. You know, a drawing is a mark in response to what you're looking at.
Scotia [00:35:20] It's a process.
Rosie [00:35:22] It's a plan. It's in what you're thinking. So having a moment to sort of, you know, have that, but to have the materials with you. So that's why we made these kids, they were quite basic, but they had pencils and paper in these little kits. And the children actually took it from their home to their foster parent so they could walk around with these little drawing kits,
Scotia [00:35:45] the arts emergency kit. We think everybody should have an arts emergency kit.
Rosie [00:35:51] That's a great name, we should have thought of that one.
Leigh [00:35:56] Yeah. So it was opening. I think it's a relational way of working way of being. It's not therapy as such. It's not we're not analysing what they're drawing or we're just giving them opportunities to create. And it is often about, of course it's young children, it's creating with adults.
Rosie [00:36:12] It's standing back and listening and you treat everyone you know, it's the same whether you're working with an adult or a child. You're just standing back and listening and responding to that and I think that works in every sector that we go to really, it's not going in as I say, I really plan like mad, but it's not going in with an outcome. The outcome belongs to the people.
Scotia [00:36:38] With a preconceived idea of what you want. That's the epitome of the creative responder – listening. Being able to offer a space to listen…beautiful.
Rosie [00:36:51] And sometimes that could go on, you know if we had the opportunity to work with children we could follow that for weeks, but we only had two weeks to follow it up. So that was where the reflecting on the first week to build on the second week was important. But if you have a longer opportunity as we did with the creative connections, we were able to build further on their ideas and thoughts and support that, their thinking,
Scotia [00:37:19] reframe the self-determination in thinking of their lives. Well, it's been such a pleasure talking to you both and hearing about the intricacies of your work. So I would have loved to have participated. It sounds like an amazing, an amazing experience that you've shared.
Leigh [00:37:35] Thank you for your interest
Rosie [00:37:37] Thank you
Scotia [00:37:37] Well, it's a beautiful resource I really congratulate you on it. I think it's a really great tool for people to engage with and yeah, I want to thank you for sharing your practice so generously. I look forward to hearing about your work as it continues too because I'm sure inevitably we will run into each other again. And thank you again for your contribution and for catching up today.
Rosie [00:37:58] Thank you.
Leigh [00:37:59] Thanks a lot, Scotia.
Rosie [00:38:00] It's been great to chat
Scotia Thanks for joining me for Creative Responders: In Conversation and special thanks to Rosie and Leigh for such an insightful discussion.
We'll include links in the show notes if you'd like to learn more about the Afloat project and we'll also link to the full suite of award-winning 'Resilient Hobart' projects if you'd like to see those.
As you heard in our conversation, there is a comprehensive resource booklet about Afloat which I highly recommend to anyone interested in working with young people in this kind of way. You can find the link to that in the show notes and also in the resource library on our website at creative recovery dot net dot au.
I'd also suggest if you haven't already listened to our documentary series, our very first episode of Season 1 is all about the role of young people in disaster management if you're interested in hearing more about the importance of fostering leadership and self-determination among young people facing disaster or trauma.
We'll be back next month with another conversation, I hope you can join us then.
This podcast is produced by me, Scotia Monkivitch and my Creative Recovery Network colleague, Jill Robson. Our sound engineer is Tiffany Dimmack and original music is composed by Mikey Squire.
The Creative Recovery Network is assisted by the Australian Government through the Australia Council, its arts funding and advisory body.
Thanks for listening.
How to Listen
You can find Creative Responders on Apple podcasts, Spotify, Google Podcasts or your favourite podcast app. You can also listen to all of our episodes right here on our website and access transcripts and resources related to each episode.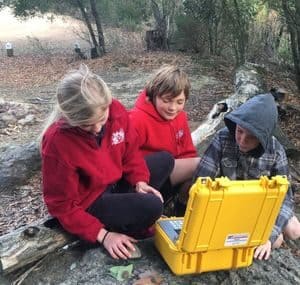 Case study library
Would you like to hear about more arts-based programs supporting and strengthening communities? Our case study library features a range of projects that harness the power of the arts to enhance all stages of disaster planning.
VISIT OUR CASE STUDY LIBRARY